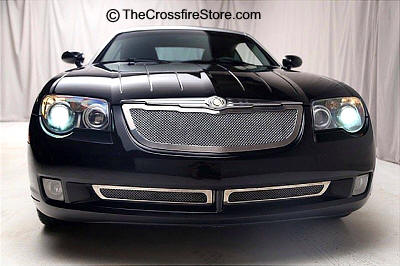 Overview

Manufacturer

Karmann for Chrysler

Production

2003–2007, model years 2004-2008

Assembly

Osnabrück, Germany

Designer

Eric Stoddard, Andrew Dyson

Body and chassis

Class

Sports car

Body style

2-door convertible
2-door coupe

Layout

FR layout

Platform

Chrysler ZH
Mercedes-Benz R170

Related

Mercedes-Benz SLK-Class

Powertrain

Engine

3.2 L M112 E32 (195 cu in) V6


3.2 L AMG M112 C32 (195 cu in) V6

Transmission

5-speed automatic
6-speed Chrysler NSG370 manual

Dimensions

Wheelbase

94.5 in (2,400 mm)

Length

159.8 in (4,059 mm)

Width

69.5 in (1,765 mm)

Height

51.5 in (1,308 mm) (coupe)
51.8 in (1,316 mm) (roadster)
The Chrysler Crossfire is a rear-wheel drive, 2-door sports car marketed by Chrysler as both coupé and roadster and was built for Chrysler by Karmann of Germany for model years 2004-2008.
Developed during the union of Daimler and Chrysler, the two-seater is based on the R170 platform and shares 80% of its components with Mercedes-Benz SLK320. Having initially arrived in 2001 as a concept car styled by Eric Stoddard, the Chrysler was with further refined by Andrew Dyson before production began in 2003.
Design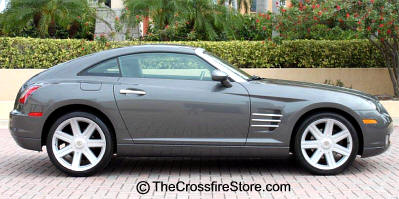 The name "Crossfire" refers to the two character lines that run from front to rear along the body sides — crossing each other midway through the door panel. Conceived during the period of Chrysler's ownership by Daimler-Benz, the name also refers to the collaboration of the two companies.
The Crossfire's fastback roof and broad rear fenders made for a rear end design that prompted automotive journalists and writers to compare the new car to American Motors' 1965–1967 Marlin. The "distinctive boat-tail rear end that reminds more than one observer of the old Rambler Marlin." For example, Rob Rothwell wrote "... when I first espied the rear lines of the Chrysler Crossfire I was instantly transported back to 1965 and my favorite car of that year, the Rambler Marlin." Motor Trend also compared the "provocative boattail theme" of the 2004 Crossfire's sheetmetal to that of the AMC Marlin.
Construction and features



Chrysler executed the interior and exterior styling. All other elements of the car such as wheelbase, track, engine, transmission, chassis structure, suspension components, are shared with R170 platform. An example of this is the engine bay of the Crossfire, which is virtually identical to the Mercedes-Benz SLK320 on the R170 platform. The seats from the Mercedes-Benz SLK320 would bolt directly into the Crossfire chassis. The dashboard layout, control and instruments are also similar to those on the Mercedes-Benz SLK320.
The standard transmission is a 6-speed manual with an optional 5-speed automatic. Base (Standard) and Limited models, originally sold beginning in the 2004 model year, are equipped with a Mercedes-Benz 3.2 L, 18-valve, SOHC V6 engine which produces 215 hp (160 kW) and 229 pound force-feet (310 N·m) of torque. SRT-6 models are equipped with a special supercharged version of the engine built by AMG. SRT-6 models came only with the 5-speed automatic transmission, consistent with AMG cars of the same era. The 6-speed transmission used by the Chrysler Crossfire is a variant of the Mercedes sourced NSG-370. The 5-speed automatic transmission in the Crossfire (known as 5G-Tronic) is also Mercedes sourced and a variant of the 722.6 family. The automatic achieves a better EPA fuel efficiency rating over the 6MT, mostly due to the difference in gear ratios.
Unlike most cars of its time, the Crossfire does not use a rack and pinion steering system; instead, it utilizes a recirculating ball system as employed on the donor R170 platform Front suspension is unequal length (SLA) double wishbone suspension with 5 point multi link in the rear. All Crossfire models were built with 2 different wheel sizes, the front wheels are 18-in. x 7.5-in. with 225-40/18 tires and the rear wheels are 19-in. x 9-in. with 255-35/19 tires.
The first production Crossfire was driven off the assembly line on 3 February 2003, by Chrysler Group's COO Wolfgang Bernhard in Germany.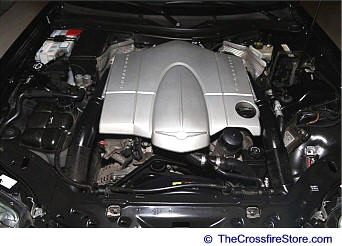 Chrysler Crossfire 2005 SRT-6 with Mercedes-AMG Engine
Sales
The sales of the Crossfire were slow, with an average 230 day supply of the vehicles during November 2005. Very few Crossfires were imported to the United States and Mexico for 2006 (and almost all of these were roadsters).
Chrysler discontinued the Crossfire after the 2008 model year, as part of its restructuring plans. The last Crossfire rolled off of the assembly line on December 17, 2007.
Officially recognized production numbers by model year by Chrysler and Crossfire International Car Club Incorporated
Model Type

Model Year
2004

2005

2006

2007

2008

Grand Total

Crossfire Coupe

0

1807

770

434

0

3011

Crossfire Limited Coupe

22801

9027

2155

1063

826

35872

Crossfire Limited Coupe (RHD)

2322

983

591

128

0

4024

Crossfire Limited Roadster (both LHD and RHD)

0

18501

4281

1905

960

25647

Crossfire Roadster

0

1806

780

803

0

3389

Crossfire SRT-6 Coupe

0

2419

47

0

0

2466

Crossfire SRT-6 Coupe (RHD)

0

26

79

0

0

105

Crossfire SRT-6 Roadster

0

1252

69

0

0

1321

Crossfire SRT-6 Roadster (RHD)

0

78

101

0

0

179

Grand Total

25123

35899

8873

4333

1786

76014
Notes:
LHD = Left hand drive (or steering wheel on the left side)
RHD = Right hand drive (or steering wheel on the right side)
Crossfire Coupe and Crossfire Roadster refer to the "Base" model

| Year | 2003 | 2004 | 2005 | 2006 | 2007 |
| --- | --- | --- | --- | --- | --- |
| Production | 35,700 | 28,000 | 12,500 | 4,805 | 2,000 |
Note: Cars produced in one calendar year may be marketed as the following model year.
Models
Model

Years

Engine

Displacement

Power

Torque

Handling

0-60 mph (97 km/h)

Top Speed

Limited

2004–2008

3.2 V6

195.2 cu in (3199 cc)

215 hp (160 kW; 218 PS)

229 lb·ft (310 N·m)

Skid pad 1.0g

70 – 0 mph in 161 ft.

6.4 sec (6-speed manual)

155 mph (electronically limited)

Base (Standard)

2005–2008

SRT-6

2005–2006

3.2 Supercharged V6

330 hp (246 kW; 335 PS)

310 lb·ft (420 N·m)

Skid pad 1.0g

70 – 0 mph in 157 ft

4.8 sec (5-speed automatic)

155 mph (electronically limited)
Base and Limited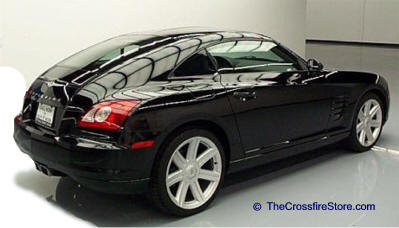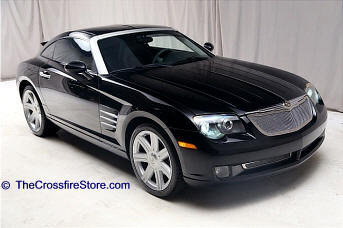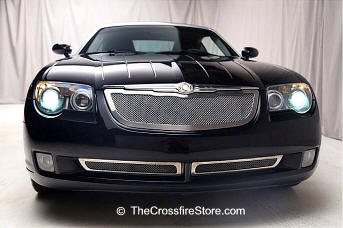 2007 Crossfire
For the first model year (2004), only the coupe was offered (with no trim levels), equipped quite similarly to the next year's Limited model. In model year 2005, there were six variants available; Coupe and Roadster, each with three trim levels: Base (with fewer amenities), Limited, and SRT-6 (supercharged). There was an SE Roadster model (essentially a base model) in 2006-2007 available only in Blaze Red Crystal Pearl and with black accented 15-spoke SRT-6 style wheels. Base Crossfire models, both Coupe and Roadster, have a black painted windshield frame, black filler plugs (in place of fog-lights) in the front fascia, and fabric seat upholstery. Limited and SRT-6 models, both Coupe and Roadster, have a silver painted windshield frame and are equipped with foglights. Limited has leather upholstery. The SRT-6 model has unique Leather/Alcantara upholstery.
SRT-6
The SRT-6 trim level, as both coupe and convertible, featured an AMG supercharged engine delivering 330 hp (246 kW) and 310 lb·ft (420 N·m) of torque. Other SRT-6 model specific features included suspension and brake modifications, a front fascia air dam and a fixed vs. retractable rear spoiler. The Crossfire SRT-6 model used the same drive-train, suspension, and braking components as those used on the Mercedes-Benz SLK 32 AMG.
In 2006, the SRT-6 was changed to special order only, though none seem to have been sold in the U.S.