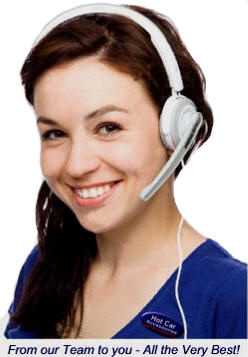 Return Policy
Hot Car Accessories, Inc.
Our stores:
TheCrossfireStore.com, TheViperStore.com, NewChallengerStore.com, TheProwlerStore.com, FordRaptorStore.com and more
We want you to be satisfied with your new purchase. Therefore, if you are not satisfied with your product - most items are returnable with a 15% Restock / Return Fee.
For example if you paid $100.00 for a returnable product you would be refunded $85.00. Original shipping and handling is not refundable.
Some items may have a higher restock fee based on the manufacturers rules. Special order items are not refundable. Each items return fee is posted under the "Add to Cart" button.
Conditions for return:
Items that are returnable have a 30 day return policy.
It is the customers responsibility to return the items in new condition - we recommend UPS or FedEx. Items must be insured by the sender in case they are lost or damaged in shipping back to us.
Email or call us for a return authorization number.
Returned items must be in new, undamaged and unused condition.
All original packing must be with item.
Items that came with film over them to protect the metal finish - must still have the film attached.
Items with double sided tape must have NOT had the red film over the tape removed.
Cancellation of Order:
We try and accommodate the wishes of our customers. Items that are refundable may be cancelled at anytime before they ship out.
A 5% Fee is withheld on cancelled item refunds.
Non-Refundable or custom items are not refundable even on cancellation as we order and pay the manufacturer for the product once you order.


Damaged items
We are happy to work with you on any damaged items.
Items that are arrived damaged or broken must be reported within 2 business days.
The customer is responsible for keeping all the original packing and box(es).
We may ask for photos of the box and/or item to file a shipping claim.
Refunds:
Refunds will be issued within seven business days upon returns arrival, inspection and approval. Refunds will be issued back in the same manner they came to us.
PayPal purchases will be issued back through PayPal, which will then refund your credit card company or bank account. Credit card purchases will be issued back to the bank card account.

If you have any questions please feel free to call us directly at 352 688 8160 M-F EST
or email us at support@HotCarAccessories.com
Please have ready or include in your email the name the order is under, your phone number with voice mail and the best time to reach you.
Thank you so much. We truly hope you love your items!
From our Team to you - All the Very Best!
TheCrossfireStore.com a HotCarAccessories.com website
2005-2023 copyright
Not affiliated with Dodge, Chrysler Corporation or it's divisions.