CC-SUNBLK
Chrysler Crossfire Windshield - Custom Fit Sun Shield
Block the sun's damaging UV rays and prevent heat build up inside their parked vehicles. Sunshields have evolved from foldout cardboard pieces to more advanced laminated materials which do a better job of reflecting UV rays and have a longer life

Covercraft saw a market for consumers who were not satisfied by the universal fit of most sunshields. Covercraft introduced a line of Custom Sunshields more than 10 years ago, made of the highest quality materials and cut precisely to the exacting contours of a vehicle's windshield.
Covercraft Custom Sunshields have proved to be a very popular accessory. Unlike the "bubble wrap" sunshades available, Covercraft offers a high quality tri-laminated material cut to exacting standards and finished with a black felt edging.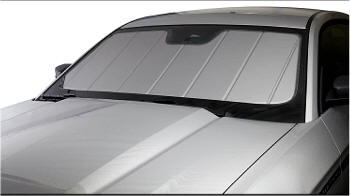 $ 64.95

Special Order
35% Restock Fee on Returns
Return Policy

3 week delivery
If you are having trouble ordering online: Please call us at 352 688 8160
$ 15.95
within the continental US

We welcome our many Overseas Customers!
More Shipping Info Click Here