JU-TLA02

Drivers side:
JU-5098677AA

Pass side:
JU-5098678AA
Chrysler Crossfire factory Tail light Assembly


Factory original replacement tail light assembly. Choose side.

$ 429.00 each
Price subject to change without notice


20% Restock Fee on Returns
Return Policy

1-2 week delivery

If you are having trouble ordering online: Please call us at 352 688 8160

$ 29.95
within the continental US

We welcome our many Overseas Customers!
More Shipping Info Click Here


IH-IH-WINDSHIELD-EXTR

Reference New parts:
TOP: JU1BX10P41AASO
PS: JUYW42P41AA
DS: JUYW43P41AA




Chrysler Crossfire factory Windshield Exterior Trim - USED or NEW

Choose used in very good condition factory trim parts - painted or unpainted.
Top trim parts numbered varied:

5PC62P41AA, 5PC62XZAAA or 5PC64XZAAA. Chrysler changed the part numbers on these parts several times. Do not be concerned if your part number does not match these listed numbers. There are too many to list.

You simply have a choice of Top Trim Piece, Right side or Left side Trim pieces.

'USED'
These are used parts in good condition taken off or Crossfire accident cars. They may have some light scuffs or light fade. Once they are painted they look new.

NEW Reproduction
These parts are brand new reproduction parts produced exclusively for The Crossfire Store and once installed they look just like the factory original. They mount the same way with the same clips. These are freshly painted Crossfire Silver. These parts are made in Florida, USA.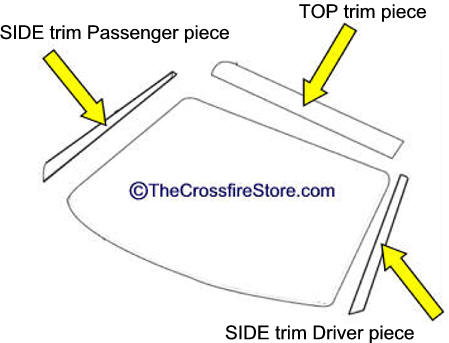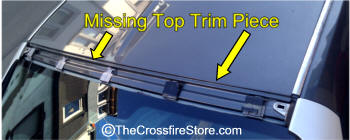 Has this happened to you?

Very good condition USED or NEW factory original part




Center Top trim and Right and Left side Trims shown above


Center Top trim and Right and Left side Trims shown above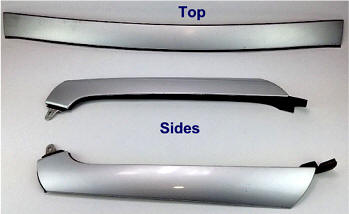 With New Paint
'USED' NEW Paint Side Trim parts
$ 249.00 and up
Price subject to change without notice


20% Restock Fee on Returns
Return Policy
1-2 week delivery


NEW Reproduction Top Trim Part
(Freshly painted Crossfire Silver)
$ 499.00

Price subject to change without notice


20% Restock Fee on Returns
Return Policy
1-2 week delivery

$ 24.95
within the continental US

We welcome our many Overseas Customers!
More Shipping Info Click Here